WASHINGTON On Election Night 2020, Donald Trump was bombarded by top aides telling him he lost and that his claims about voter fraud were bullshit," according to their own testimony played Monday by the House Jan. 6 committee.
Instead of listening to White House and campaign senior aides, the advisers said the former president sided with a definitely intoxicated Rudy Giuliani to launch a movement that culminated in the Jan. 6 attack on the U.S. Capitol.
In its second hearing, the committee played a series of video testimony from some of Trumps closest political and legal advisers who were virtually unanimous in saying they urged the president that claims of massive fraud were "completely bogus" and at every overture, Trump simply ignored them and opted instead to listen to Giuliani.
Thats not the approach I would take, Trumps tight-lipped son-in-law, Jared Kushner, said he told the president. He said I have confidence in Rudy.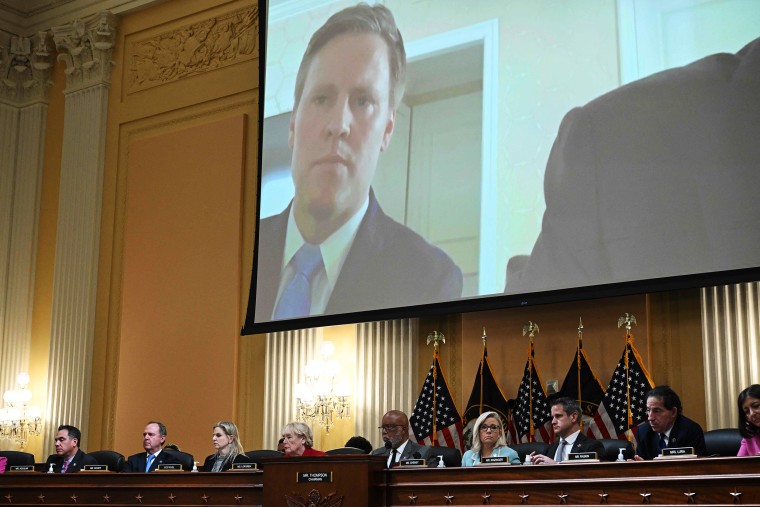 "Out of the box on election night, Trump claimed there was fraud and this happened before there was any potential evidence, former Attorney General Bill Barr testified, adding later that he told the president it was bullshit."
"All the early claims that I understood were completely bogus and silly and usually based on complete misinformation, Barr added. I thought, boy, if he really believes this stuff, he has lost contact with hes become detached from reality if he really believes this stuff.
"Hes become detached from reality if he really believes this stuff."
Former Attorney General William Barr
Eric Herschmann, one of Trumps own attorneys, said the legal claims advanced by outside lawyers aligned with Trump were completely nuts.
Richard Donoghue, who was the acting deputy attorney general at the time, said he went case-by-case with Trump to debunk every allegation of fraud, but Trump would just move on to another one and then another one as each got knocked down.
"I told him [Trump] flat out that much of the information he was getting was false or not supported by the evidence," Donoghue said. "He wouldn't fight us on it, but he'd move to another allegation."
While the committees first hearing last week focused on the attack itself, Mondays program aimed to show that Trump knew he had lost the election and intentionally used phony evidence and outright lies to try to stay in power and gin up the movement that led to the violent insurrection last January.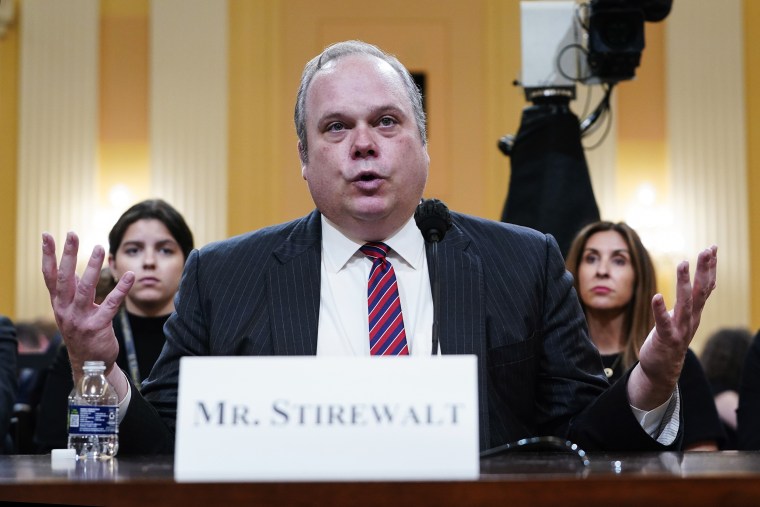 The committee sought to underscore the point that Trump himself was chiefly responsible for propagating the lies about the election and that the Stop the Steal movement was not a grassroots movement on which Trump seized, but rather one he sparked from the top down.
The election fraud claims were false. Mr. Trumps closest advisers knew it. Mr. Trump knew it, said Rep. Zoe Lofgren, D-Calif., a committee member who is expected to play a prominent role in Mondays hearings. The attack on Jan. 6th was a direct and predictable result of Mr. Trumps decision to use false claims of election fraud to overturn the election and cling to power.
In his testimony, Bill Stepien, Trumps 2020 campaign manager and former White House political director who had been scheduled to appear in person Monday but withdrew at the last minute because his wife went into labor said he and a group of other senior aides gathered outside the Oval Office on Election Night to essentially try to talk Trump down from his conspiracy theories.
Stepien said as votes were being counted, it became clear to aides with the president that night that Trumps chances of victory were very very bleak.
We told him … my belief in chances for success at this point … we pegged it maybe 5 or 10 percent, Stepien said. My recommendation was to say that votes were still being counted. Its too early to tell. … The president disagreed.
But Giuliani, the former New York City Mayor, arrived and began to push Trump to declare the election stolen.
The mayor was definitely intoxicated, said Trump senior adviser Jason Miller, who remains in Trump's orbit. There were suggestions by I believe it was Mayor Giuliani to go and declare victory and say that wed won outright.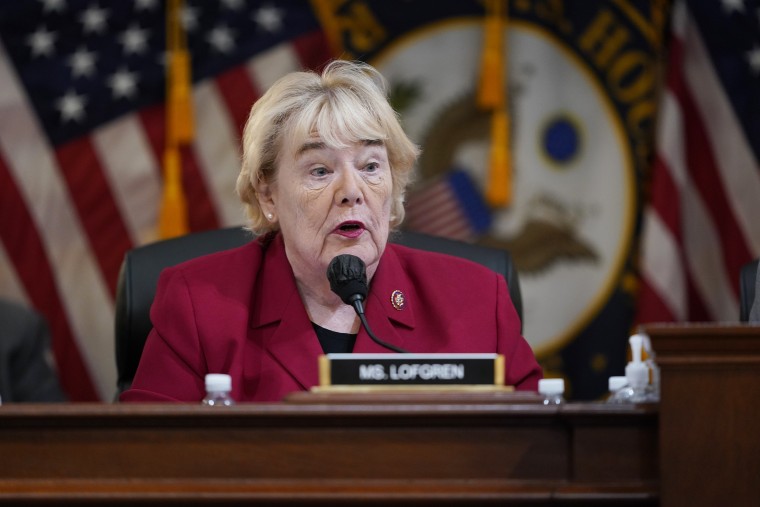 The first hearing was held in prime-time Thursday and drew about 20 million viewers.
The next hearing is scheduled for Wednesday morning, with a focus on Trumps attempts to bend the Department of Justice to his will, while a fourth hearing this week will focus on Trumps efforts to pressure Vice President Mike Pence against certifying the results of the election on Jan. 6.
Peter Alexander, Vaughn Hillyard, Garrett Haake and Rebecca Shabad contributed.